E2E – Tony Elieh, Branimir Štivić, Jaka Berger
Lebanese bassist Tony Elieh, local drummer and electrophonist Jaka Berger and Croatian electrophonist and multimedia artist Branimir Štivić will create a completely new work through the format of the residency, embroidered through the potential fields of free improvisation, post rock, noise, dub, ambient music and audiovisual performance.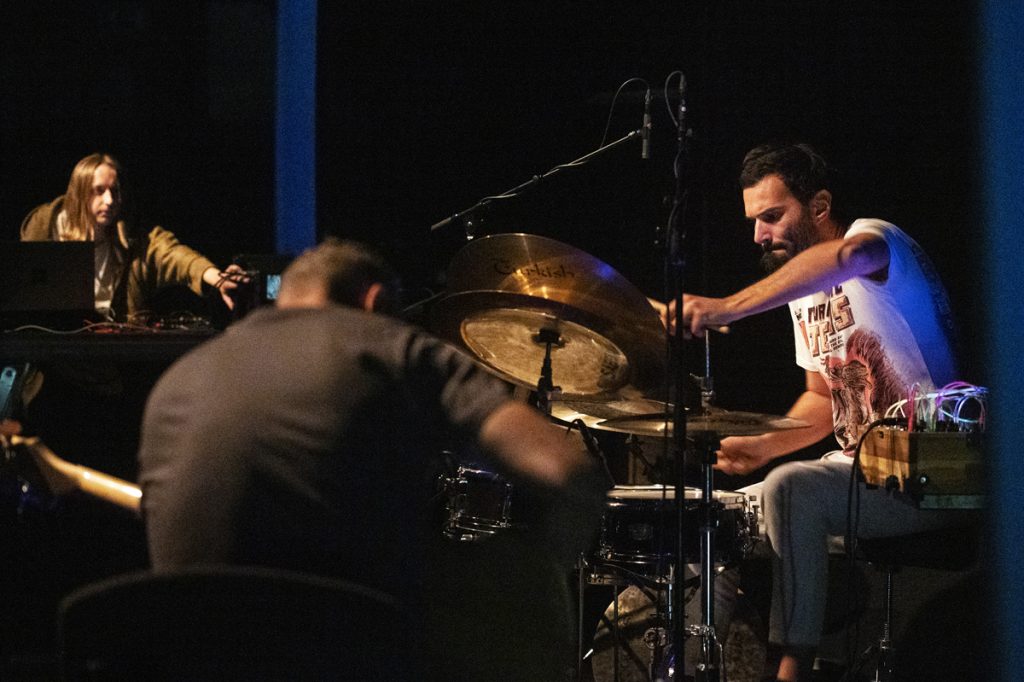 E2E [ Eyes to Ears & Ears to Eyes ]
E2E is a project consisting of 3 artists, Tony Elieh from Beirut Lebanon, living in Berlin
Germany, Jaka Berger from Ljubljana Slovenia and Branimir Štivić from Zagreb
Croatia. Tony Elieh is an electric bass and electronic musician, Jaka Berger is a
drummer and analogue synthesizer musician and Branimir Štivić is a visual artist and
electronic musician. The 3 artists met for the first time in Ljubljana Slovenia during a
3 days residency to compose an audio-visual piece for Sonica Festival that took
place from 21st till 24th of July 2022.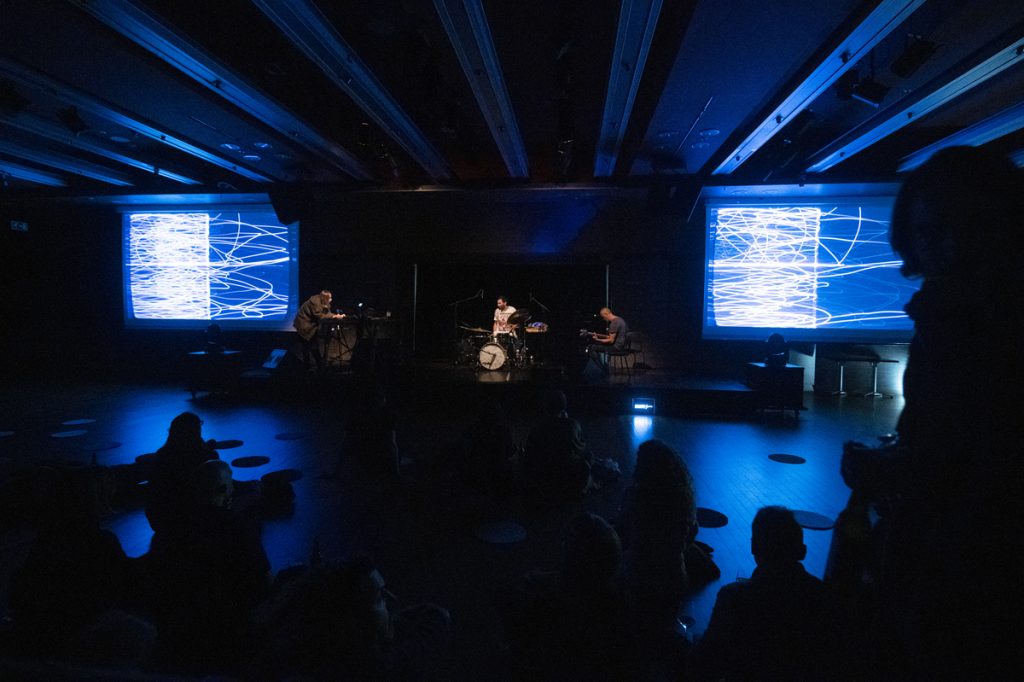 Our experimental audiovisual group represents a convergence of sound and vision,
exploring the boundaries of music and technology. Our performances are rooted in
the use of archaic video technology and techno-waste, where we translate sound into
a visual medium, creating a unique and immersive experience for the audience. As a
trio consisting of a drummer, bass guitarist, and new media & electronics visual
artist, we embrace the unpredictability of free improvisation, weaving together our
individual expressions into a dynamic tapestry of sound and light. Our work invites
the audience to question the relationship between technology, art, and perception in
the age of the technosphere & anthropocene, pushing the limits of what is possible
in a live performance setting.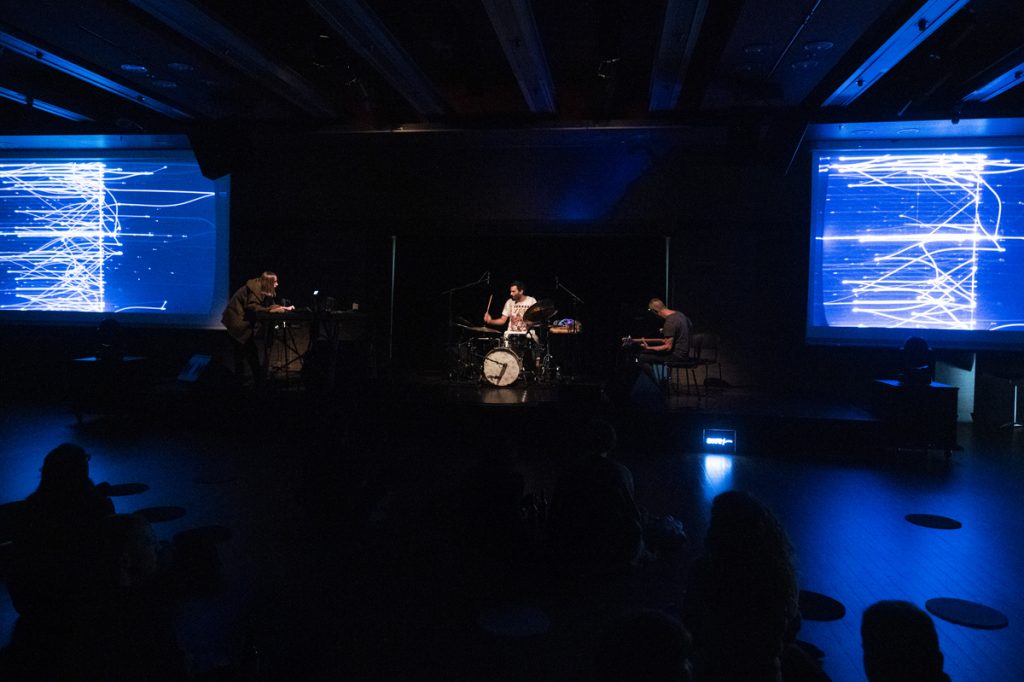 Tony Eliah brings a distinctive voice to the experimental audiovisual trio, as a bassist
who is equally skilled with the electric bass guitar and electronics. His use of guitar
pedals and synthesizers expands the sonic palette of the group, adding depth and
texture to the overall sound. His bass playing is rooted in traditional techniques, yet
he fearlessly experiments with unconventional sounds, producing a truly unique and
innovative soundscape. Tony's musical vision seamlessly blends the acoustic and
electronic worlds, resulting in a mesmerizing performance that captivates audiences.
BIO: https://tony-elieh.jimdosite.com/cv/
LIVE: https://www.youtube.com/watch?v=i5VsJs29FQw

Jaka Berger brings a distinct and powerful energy to the experimental audiovisual
trio. As a drummer, he masterfully blends percussions with modular synthesizers to
create a mesmerizing and dynamic soundscape. His precise and imaginative use of
rhythm elevates the performance, weaving together the sounds of the bass guitarist
and electronics video artist to form a cohesive and breathtaking audio-visual
experience. He masterfully blends these sounds with traditional percussion to form a
rich and dynamic musical experience.
BIO: https://jakaberger.com/
LIVE: https://www.youtube.com/watch?v=1e8rTKPYj6A
Branimir Štivić is an emerging new media artist in the field of experimental
audiovisual art. In the trio, Branimir's use of analog video technology to translate
sound into visuals is nothing short of extraordinary. His innovative approach to video
art adds a new dimension to the group's performances, creating a truly immersive
experience for the audience. He is using old technology to repurpose it and play it in
a way that is not imagined to be used. Like a lot of military technology that was used
by pioneers of video art in the past. It is perfect "E N T A N G L E M E N T" between
old and new, sound and video, human and machine. Sound is directly connected to a
video synthesis on a CRT monitor and what you hear is what you see.
BIO: https://branimirstivic.com/about.html
LIVE: https://www.youtube.com/watch?v=AEzEpVIUUSQ