Acoustic drum solo -Treatise by Cornelius Cardew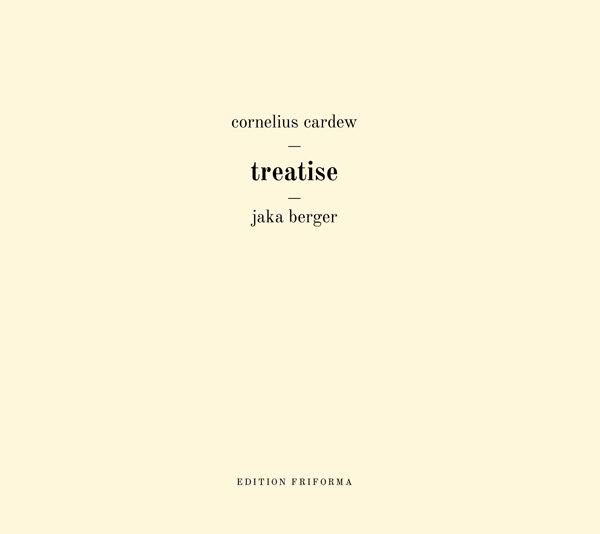 Jaka Berger: drums, objects, percussion / bobni, predmeti, tolkala
Composed by / skladbe: Cornelius Cardew
Performed by / izvedba: Jaka Berger
Recorded by / snemanje: Jaka Berger at Gallery Simulaker in Novo mesto, Slovenia on 19-22/11/2021 / v Galeriji Simulaker v Novem mestu, Slovenija, 19-22. 11. 2021
Mixed and mastered by / mešal in masteriziral: Jure Gruden
Liner notes by / spremna beseda: László Juhász
Photo by / foto: Maid Hadžihasanović
Graphic scores by / grafična notacija: Cornelius Cardew
Graphic design by / oblikovanje: László Szakács
Executive producer / izvršna producentka: Nataša Serec
Associate producer / producent: László Juhász
Special thanks to / posebna zahvala: Seymour Wright, Eddie Prévost, Horace Cardew, and / in Fiona Corbett-Clark & Christoph Beyer (Edition Peters Group)
Treatise in solo
Slovenian percussionist Jaka Berger (1980) has been working with the late Cornelius Cardew's (1936-1981) seminal graphic score since 2009. "Treatise" is often labelled as a creative excercise for smaller or larger groups of instrumentalists, yet throughout his published works "46​/​3​/​84​/115" from 2015, and "Breakfast With Cardew" from 2021, Berger has been dealing with one of the largest-scale piece of graphic notations ever put on paper, alone.
Challenging the self-invention
Written between 1963 and 1967, and published by Edition Peters in 1967, Cardew added no guidance for how "Treatise" was to be interpreted or performed. No definition was ascribed to the 67 different symbols (geometric and abstract shapes) that Cardew uses over the undetermined duration of the massive 193-page score, most of which are not connected whatsoever to conventional music notation. "Treatise" is an abstarct diagram of concepts that challenge the boundaries of what it really means to control sound, to define time and space, and to decipher symbols around us.
As the composition allows absolute interpretive freedom, there are no right or wrong ways of performing it; it is entirely open to reading. With this present realization, Berger goes back to basics and uses his primary instrument – the drum kit – in its most stripped-down form: no extensions, no additional sound sources, only pure stick hits, brush strokes and bow draws on the surface of his instrument. Another remarkable landmark on the journey of "Berger plays Cardew".
László Juhász
August 2022
Treatise v solo izvedbi
Slovenski tolkalec Jaka Berger (1980) se od leta 2009 spoprijema s temeljno grafično partituro Corneliusa Cardewa (1936-1981). "Treatise" je pogosto označen kot ustvarjalna vaja za manjše ali večje skupine instrumentalistov, toda Berger se v vseh svojih objavljenih delih "46/3/84/115" iz leta 2015 in "Breakfast With Cardew" iz leta 2021 sam ukvarja z enim najobsežnejših grafičnih zapisov, kar jih je bilo kdajkoli prenesenih na papir.
Izzivanje samoinvencije
Cardew delu, napisanemu med letoma 1963 in 1967 ter objavljenemu pri založbi Edition Peters leta 1967, ni dodal nobenih navodil, kako naj bi ga interpretirali ali izvajali. 67 različnim simbolov (geometrijskih in abstraktnih oblik), ki jih Cardew uporablja v nedoločenem času trajanja obsežne 193-stranske partiture in od katerih večina nima nikakršne povezave s konvencionalnim glasbenim zapisom, ni bila pripisana nobena opredelitev. "Treatise" je abstrakten diagram konceptov, ki postavljajo pod vprašaj meje tega, kaj v resnici pomeni nadzorovati zvok, določati čas in prostor ter dešifrirati simbole, ki nas obkrožajo.
Ker skladba dopušča popolno interpretativno svobodo, ni pravih ali napačnih načinov izvedbe – v celoti je odprta za tolmačenje. S pričujočo izvedbo se Berger vrača k osnovam in uporablja svoje primarno glasbilo – bobnarsko garnituro – v najbolj okrnjeni obliki: brez razširitev, brez dodatnih zvočnih virov, le čisti udarci palice, poteze čopiča in risbe z lokom po površini glasbila. Še en markanten mejnik na potovanju "Berger igra Cardewa".
László Juhász
Avgust 2022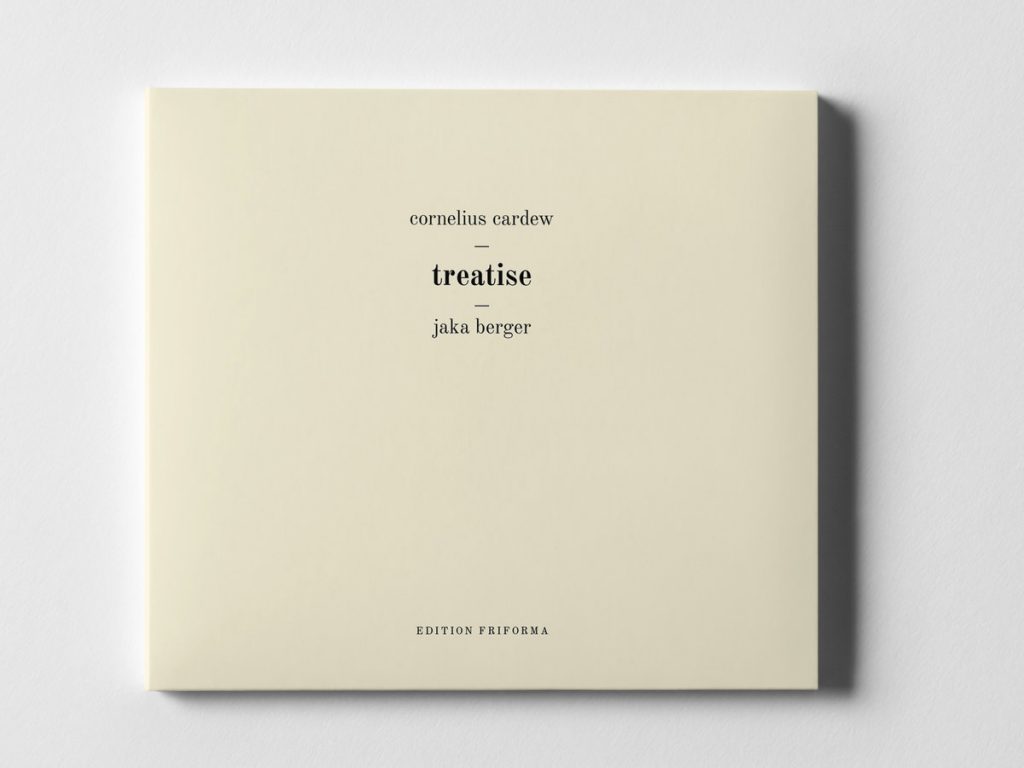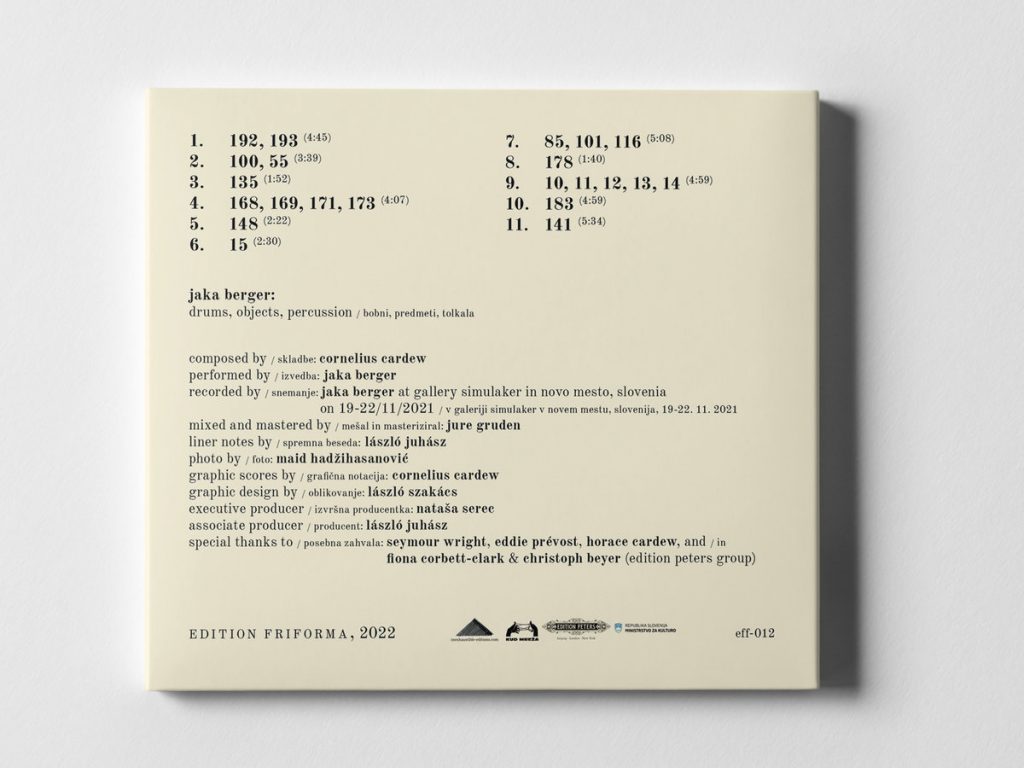 Reviews
»The performance thus takes on the features of an all-encompassing phenomenological investigation that does not fail to emphasise the beat as the primordial matrix of musical gesture: among the various incursions based on swirling broken rhythms – the most obvious side of a virtuosity that is also meant 'vertically' –, Berger willingly relies on the unmediated physicality of the hands in direct contact with the skins and cymbals, and in no case takes for granted the use of sticks, mallets and other appendages, so that each sequence represents an elusive acoustic singularity, not entirely identifiable in pure listening.
…the very fact that a single work can potentially contain all of its conceivable interpretations (including Jaka Berger's excellent, imaginative display), thereby eliding the concepts of right and wrong, is in itself sufficient to count Treatise among the most important contributions to the evolution of contemporary music." »
Michele Palozzo, Esoteros, 28 November 2022
Wide-range percussionist Jaka Berger, or Brgs, released his third album on November 12 this year, on which he primarily dabbles with the interpretation of the graphics on the pages of the extensive Treatise score. It was published by the local publishing house Inexhaustible Editions. The label is run by László Juhász, who, among other things, encouraged Brgs to embark on the task this time without synthetic inserts and electrophonic admixtures, i.e. equipped exclusively with his drum set and various props and preparations. That's what he did. In the eleven, on average relatively short pieces on the album, Brgs interprets individual pieces in many stylistic moves, and on the basis of his own semantic system of the combined side of the score, all without the synthesizer collaborations he loves so much. Make no mistake, this is not about improvisation on the spot while reading the accompanying graphics – although Cardew purposely does not assume any concrete instructions for reading and execution, the core of the interpretation is supposed to be in the prior agreement on the meaning of the signs and symbols, which should then be a performer or group acts through musicianship.
Luka Hreščak, Radio Študent, 25.december 2022
"Fascinating exploration of English experimental composer Cornelius Cardew's notoriously difficult creation Treatise. Not quite a musical composition, not quite a work of design, the score for Treatise offers the performer almost infinite freedom to bring their own imaginative expression to the work. Jaka Berger's excellent percussive performances suit Treatise well, highlighting its moody, philosophical aspects. A challenging listen, but also starkly beautiful. / Dave Aftandilian, Bandcamp
Radio Ars – slovenian national radio – Arsov Art Atelje – Primož Trdan – interview
Notranje gorice – interview – Radio Študent